Upcoming Gatherings
| Sun | Mon | Tue | Wed | Thu | Fri | Sat |
| --- | --- | --- | --- | --- | --- | --- |
| 27 | 28 | 29 | 30 | 1 | 2 | 3 |
| 4 | 5 | 6 | 7 | 8 | 9 | 10 |
| 11 | 12 | 13 | 14 | 15 | 16 | 17 |
| 18 | 19 | 20 | 21 | 22 | 23 | 24 |
| 25 | 26 | 27 | 28 | 29 | 30 | 31 |
November 2020
VIRTUAL Wine & Food Affair
11:00 AM to 4:00 PM
Sat, Nov 7, 2020 - Sun, Nov 8, 2020
Venue:
Alexander, Dry Creek & Russian River Valleys
Contact:
Wine Road (707) 433-4335,
info@wineroad.com
We are thrilled to be part of the California only, VIRTUAL Wine & Food Affair this year! WineRoad was able to create mixed cases of wine from over 60 WineRoad wineries so you will be able to explore a mix of wineries in one shipment. We are proud to announce our 2018 Zinfandel Verano, Dry Creek Valley is included in the Package 3 | Discover New Wines & Wineries mixed case. Click here to order now.
WineRoad is only able to ship within California, per permit requirements from the Alcohol Beverage Control - so California is in for a treat! Sales begin October 1st and end October 28th. Shipping will need to conclude by October 30th.
To create the full "wine & food pairing" weekend, recipe cards for the wines in your shipment, along with a WineRoad cheese/cutting board will be inlcluded with your order. Then on November 7th & 8th tune into YouTube and see each of the wineries talk about the wine featured and the recipe chosen to pair with it. Some wineries will also do a Facebook Live that weekend so you can tune in and ask questions in real-time.
If you are local, save on shipping and pick-up your order at the WineRoad office on November 7th or 8th, between 11:00 - 4:00.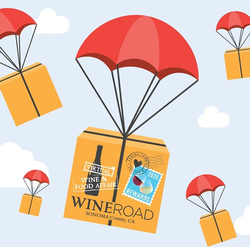 Harvest Dinner at Coyote Sonoma
5:00 PM to 9:30 PM
Sat, Nov 14, 2020
Venue:
Coyote Sonoma
Contact:
Coyote Sonoma (707) 433-4444, ext 2,
tastingroom@coyotesonoma.com
Join Winemaker Antoine Favero and the Mazzocco team at our sister winery and tap room, Coyote Sonoma for a Harvest Dinner Celebration! Book early to secure your spot - as we continue to honor all social distancing guidelines, covered outdoor seating is limited. Choose from two seating times, either 5:00 pm or 7:30 pm. Your dinner will include a multi-course meal, a tasting flight of four wines and live acoustic music.*
Club Member: $65 per person | Non-Club: $75 per person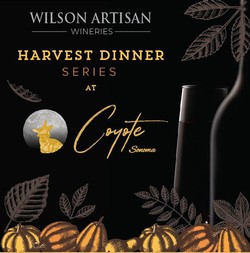 *Additional wine or food purchases will be added to your bill.